Coveo Intelligent Search Platform
Empower people with the most relevant information for the task at hand, delivered proactively on any application or device.
SEARCH THAT TRANSFORMS YOUR BUSINESS
Upskills your employees and customers
Delivers the best information at the right moment proactively from across your entire information ecosystem, including cloud and on-premise sources. Coveo offers over 50 out of the box connectors.
Delivers information securely
Provides industry-setting levels of data security in the cloud, including encryption at rest. Coveo ensures content security by honoring the permissions of each system indexed in near real-time, so people see only what they should.
Is easy-to-use and manage
Allows you to deliver engaging user experiences, on every device and within any enterprise application, with simple and intuitive admin tools, actionable analytics and highly-tunable relevance.
Delivers fast and measurable value
Deploys rapidly and improves business performance from day one. Quick implementations and ease-of-use accelerate adoption while KPI-driven analytics & reporting let you instantly quantify Coveo's impact on your business.
FEATURED INTELLIGENT SEARCH APPLICATIONS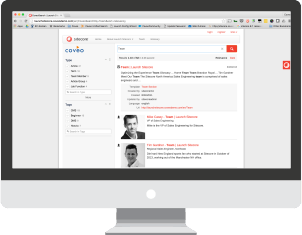 Service Cloud + Community Cloud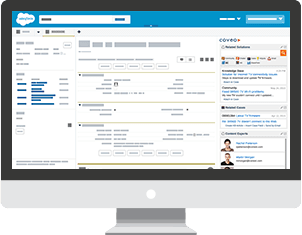 Sitecore Search Solution
SECURE, INTELLIGENT SEARCH FOR YOU
Proactively deliver the most relevant information to your customers and employees by integrating Coveo into the applications and devices they use. Contact us to search-power your website, intranet, CRM, or any enterprise application.